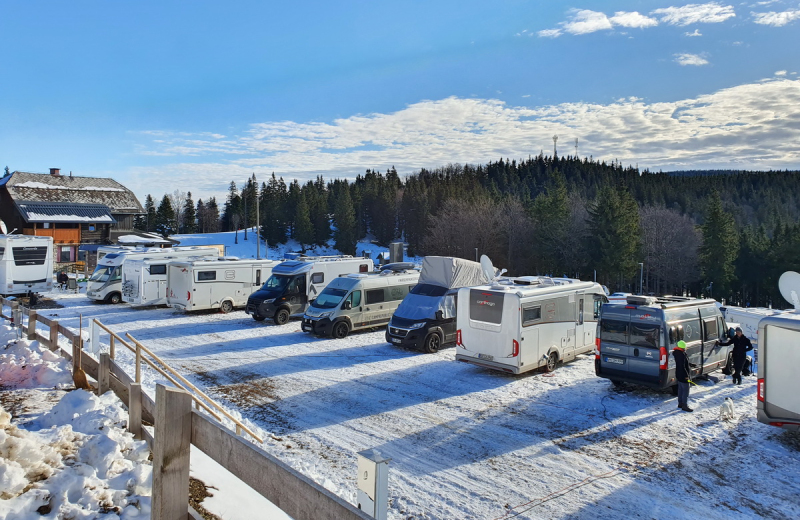 Information
Camper stop description
Skiing resort Kope has a camper stop right next to the ski slope and it is part of the renovated Grmovskov dom. The chalet offers rooms for overnight stays, a large restaurant with a children's playroom, a lovely terrace outside, and the renovated Holcer pub in the basement, where many parties are held.
The nearby Luka's House has a modern wellness centre with 5 saunas, a Kneipp bath and an outdoor jacuzzi
Access to the ski resort and caravan stop Kope is from Slovenj Gradec, from where there are 16 km of road to the Grmovskov doma. The road is narrow in places, so good winter equipment (snow chains) is recommended in winter.
Camper stop Kope has 40 pitches for motorhomes in a ramp-fenced parking area, with electricity and water hook-ups, and a waste water and sewage disposal area. There are also sanitary facilities with toilets and showers. Check-in and payment for the use of the camper stop is made at the Grmovskov dom. Unfortunately, there is no shop nearby and no ATM.
Ski Resort Kope is a family ski resort and in 2023 two new 4-seater ski lifts (Kopnik and Pahernik), a new ski lift (Velika Kopa), new ski slopes and freestyle ski slopes were built. The ski slopes are at an altitude of 1,010 to 1,542 metres, and there is artificial snowmaking. In good snow conditions, there are also 15 km of cross-country skiing trails from the Grmovský Hole to the Ribniška Hut. In the summer months, Kope offers many opportunities for hiking and cycling in Pohorje.
Information about camper stop
Camper stop type
Camper stop with supply station
Features of the camper stop
Camper stop with sanitary facilities

Discharge of faeces / chemical wc
Features and equipment on location
Location
Equipment
Chemical toilet discharge

Children sanitary facilities

Heated sanitary facilities
Offer
Sport
Swimming pool/wellness
Swimming pool with heated water
Dogs
Rental option
Pricelist for camper stop (in EUR) for year 2023
| Price for | 1.1. - 31.12. |
| --- | --- |
| Camper stop + electricity + water (24h) | ​​15 |
| Tourist tax | ​​1,50 |
| Check-in | ​​1 |
PDF - Pricelist for year 2023 (15KB)
Camper stop Kope - reservations are not possible!

Contact
GPS: 46.502400,15.210200
Address: Razborca 66, 2383 Šmartno pri Slovenj Gradcu, Slovenija
Reception:

+386 2 88 39 850

Reservation:

+386 31 680 547
Rating and reviews
Reviews:
Published on day from anonymous

Category

Camper

Company

In couple

PZA je dejansko na zelo primernem mestu in čeprav se trudijo ustreči marsikaj ne deluje kot večkratno "potovanje" na recepcijo, brez osebne ostaneš do odhoda, za smučanje res primerno, seveda če ne bi bilo vse v blatu!!!!! Nekaj kamionov peska in vsi bi bili zadovoljni. Ja, malo za hec, PZA cena je še zelo ugodna glede na količino blata s katerim razpolagaš .......​​

Published on day from anonymous

Category

Camper

Company

In couple

Cesta na Kope obupno slaba, parkirišče za avtodome blatno, čista katastrofa, obrnila in šla nazaj v dolino.​​

Published on day from SchpeGe

Category

Camper

Company

Family with small children

Tusev in sanitarij ni! Ni niti smetnjaka!! Ker gre za neutrjeno parkirisce je polno luz in umazanije. Zahtevajo osebne izkaznice vseh potnikov v avtodomu?!?!?
Parkirisce je sicer veliko in zagrajeno z rampo. Parkirna mesta niso oznacena. Ponujajo odlocno premalo za 25eur!!!!(uradno 15eur plus zaracunajo se raznorazne takse in prijavnine). Da ne omenjam da sem 4x morala na recepcijo urejat 'administracijo'.
Na zalost se je po Sloveniji razpasla ideja sluzenja easymoney na racun avtodomarjev.
Okolica lepa.​​​​

Published on day from anonymous

Category

Camper

Company

Family with teenager

Nudi odlično hlajenje v poletni vročini. WC in Tuš težko najdeš. Lepo urejeno in mirno.​​

Published on day from anonymous

Category

Camper

Company

Family with teenager

>Tik ob smučišču z zasneževanjem po potrebi. Super ponudba in zabava.​​