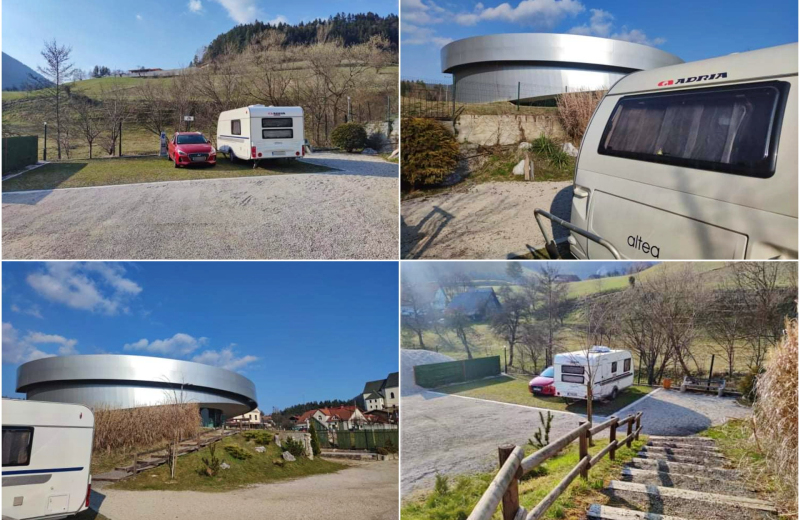 Official category: 0 from 5 stars
Camper stop Vitanje
Address: Na vasi 18, 3205 Vitanje, Slovenija

Season: -
Compared price: No pricelist
Discounts:
Information
Camper stop description
The Vitanje camper stop is set up near the Herman Potocnik Noordung Space Technology Center.

Camper stop Vitanje provides parking for up to 3 motorhomes and is equipped with connections for fresh water, electricity (16A), as well as the discharge of waste water and feces. Camper supply station is available throughout the year. There is also a larger parking place next to the camper stop.

Vitanje is located 12 km from Slovenske Konjice and boasts an old town core. In the historical sources, the square is first mentioned in 1306. In Vitanje you can see Beskovnik's granary, Stari grad and Novi grad, the church of Sv. Peter and Paul, the Church of the Mother of God on Hriberca and the village of Rakovec.

In honor of the Slovenian rocket engineer Herman Potocnik, they built the Noordung Center - the Space Technology Center of Herman Potocnik Noordung, where you will learn about the entire development of rocket technology and its beginners. The center offers permanent exhibitions on the work of Herman Potocnik Noordung, how Slovenian companies influence the global space industry, learn how life on the space station goes, learn about the beautiful and the diversity of planets. Interesting virtual space station representation and flight simulator.

Information about camper stop
Camper stop type
Camper stop with supply station
Features of the camper stop
Discharge of faeces / chemical wc

Camper stop with sanitary facilities
Features and equipment on location
Location
Equipment
Chemical toilet discharge

Children sanitary facilities

Heated sanitary facilities
Offer
Sport
Swimming pool/wellness
Swimming pool with heated water
Dogs
Rental option