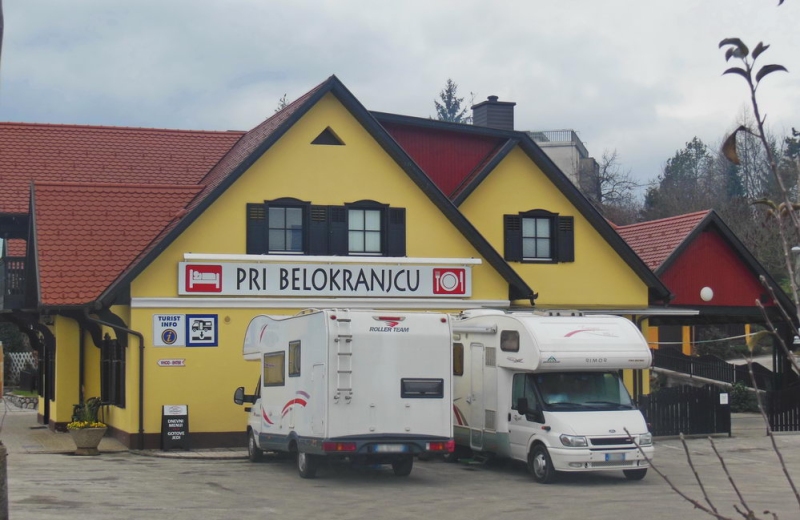 Information
Camper stop description
Motorhome parking Pri Belokranjcu Novo mesto is arranged with the hotel Pri Belokranjcu. The location is only a 10-minute walk from the old part of Novo mesto.

There are two parking places for motorhomes- in this location near the hotel there is space for two motorhomes and it is intended for transit guests. The hotel has well-appointed rooms and a restaurant serving traditional food. There are also several shops nearby.

The second parking lot, Stara vrtnarija Grm, is arranged next to the apartment building, where there is room for 10 motorhomes and is only a few minutes away from the hotel. It is intended for guests who stay in Novo mesto for several days. Check-in takes place at the hotel, after which the friendly owners will take you to another location.
Information about camper stop
Camper stop type
Camper stop with supply station
Features of the camper stop
Camper stop with sanitary facilities

Discharge of faeces / chemical wc
Features and equipment on location
Location
Equipment
Chemical toilet discharge

Children sanitary facilities

Heated sanitary facilities
Offer
Sport
Swimming pool/wellness
Swimming pool with heated water
Dogs
Rental option
Contact
GPS: 45.799493,15.178556
Address: Kandijska cesta 63, 8000 Novo mesto, Slovenija
Reception:

+386 7 302 84 44
Rating and reviews
Reviews:
Published on day from Klemen Klemen

Category

Camper

Company

Alone

Odlična lokacija in mir na PZA.
Tuši, WC, pralni in sušilni stroj.
Gostoljuben lastnik pripavljen odgovoriti na vsa vprašanja.​​