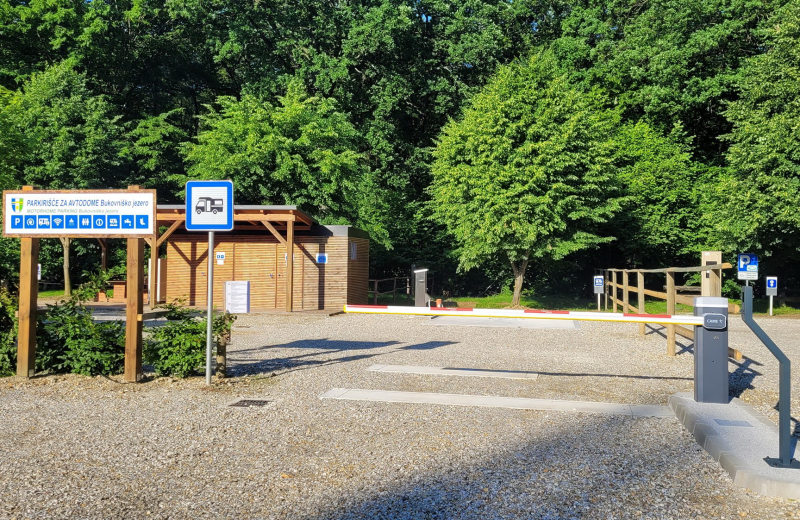 Information
Camper stop description
Camper stop Bukovnisko Lake is a modern parking lot with 16 parking spaces for motorhomes and caravans. Camper stops managed by the Dobrovnik Institute for the Environment and Tourism.
The stay with motorhome is limited to 72 hours. The price includes a parking space for one motorhome and all the infrastructure located inside the parking lot (toilets, showers, electrical connection, wi-fi, waste disposal and faecal emptying).
Camper stop is equipped with electricity, water, gray water can be discharged and has a small sanitary facility with showers and toilets. Free wifi is available to guests. There is also a children's playground.
Some providers offer additional discounts when presenting a card to enter the camper stop, e.g. Prekmurje delicacies and Okrepcevalnica Cuffi. Check the list of benefits at the price list.

Camper stop Bukovnisko Lake is about 300 meters away from the lake itself. It is an accumulation lake surrounded by forest. The area offers many pleasant cycling and hiking trails. The area is located in the Goricko Landscape Park.
Right next to the parking lot is the Brunarica delicacies bar, where you can try local food and the Cuffi confectionery. For the youngest there is a Fairytale Park, and for those who want adrenaline, the Bukovnisko Lake Adventure Park with 58 different elements, suitable for adults and children over 4 years of age. Near the lake is the church of Sv. Vida and Vida spring, whose water has healing effects. There are also 26 energy points in the vicinity of the chapel, which have a beneficial effect on the body and the renewal of vital energies.
Information about camper stop
Camper stop type
Camper stop with supply station
Features of the camper stop
Camper stop with sanitary facilities

Discharge of faeces / chemical wc
Features and equipment on location
Location
Equipment
Chemical toilet discharge

Children sanitary facilities

Heated sanitary facilities
Offer
Sport
Swimming pool/wellness
Swimming pool with heated water
Dogs
Rental option
Pricelist for camper stop (in EUR) for year 2023
| Price for | 1.1. - 31.12. |
| --- | --- |
| Camper stop + electricity + water (24h) | ​​25* |
| Sanitary (toilet + shower) | ​​gratis |
PDF - Pricelist for year 2023 (17KB)
* Additional benefits by presenting a card to enter the camper stop:
10% discount in Cuffi confectionery,
10% discount in the restaurant Brunarica prekmurskih dobrota,
20% discount in the Adventure Park on Bukovniško Lake

Contact
Address: 9223 Dobrovnik, Slovenija
Reception:

+386 41 349 927
Rating and reviews
Reviews:
Published on day from anonymous

Category

Camper

Company

In couple

Super postajališče za avtodome, moži sprehodi tudi v vročini zaradi bližine gozda, urejene poti za sprehajanje. Super izhodišče za kolesarjenje in za lastnike psov, dovolj sprehajalnih poti v gozdu. Super restavracije, urejeno postajališče, s tuši in sanitarijami, katerih uporaba je vključena v ceno. Zelo priporočam​​

Published on day from eos76

Category

Caravan

Company

Family with teenager

Zelo urejeno, mirno, eden bolj redkih PZA-jev kjer dovolijo parkirat tudi prikolicam. S kartico iz PZA precej popustov pri lokalnih ponudnikih, zato se mi zdi 20 € na dan zelo ugodna cena. Zraven je infotočka ter restavracija, igrala za otroke, adrenalinski park, energijske točke, Vidov izvir zdravilne vode, itd... Zelo prijazen in ustrežljiv lastnik/upravljalec. Priporočam!​​

Published on day from anonymous

Category

Camper

Company

In couple

Vse vredu, vendar ko sva bila tam avtomat za kupit žetone ni delal in se nisva mogla stuširati. Še boljše pa bi bilo če bi bili tuši zastonj, glede na ceno postajališča. Za ceno 20€ sem pričakovala veliko več. Tudi varovanje, kot piše da je je bolj tako tako samo navadna ograja, vendar to je še najmanjši problem. ​​

Published on day from anonymous

Category

Camper

Company

Family with small children

Miren in lep PZA z ogromno različnih možnosti športnega udejstvovanja (krasno kolesarjenje, adrenalinski park, sprehodi,...). ​​

Published on day from anonymous

Category

Other

Company

With friends

Veliko prostočasnih dejavnosti je na vočko primernih za vso družino.. Hrana v bljižnjem gostišču odlična,
Cena je glede na vse ugodnosti zelo primerna.​​