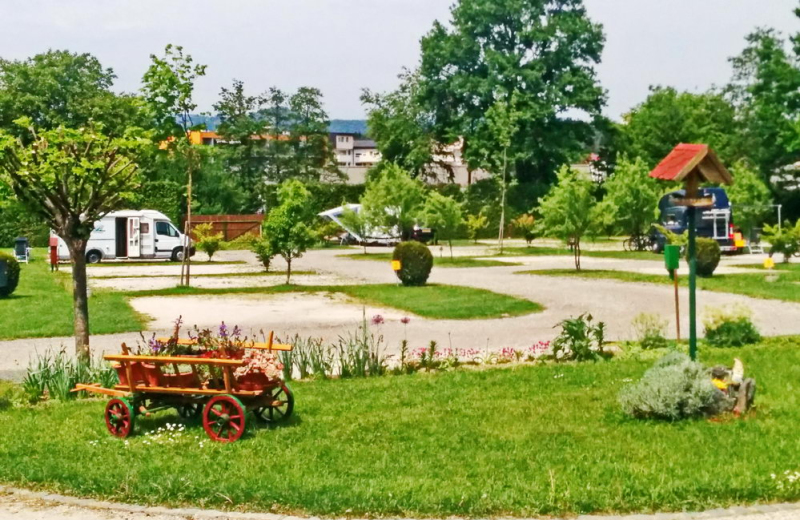 Information
Basic information
Camping Centre Kekec is located in the well-know tourist and sport area of Pohorje Mountain in town Radvanje, 5 kilometers away from the centre of Maribor city and 300 m from ski resort Mariborsko Pohorje. They offer camping on arranged pitches and rental of glamping wooden houses.
Camp is divided on two parts: 14 places for campers and caravans and 20 pitches for tents. Places intended for campers and caravans are equipped with electricity and water connection, cable television with more than 100 TV programmes and internet access. Pitches for tents are set on grass, where draining is arranged. Here are electricity connections and two water accesses. On this part reserved for tents you will find enough space for about 20 tents and cars. Large children's playground is arranged.
As camp is opened as well in winter it is great location for lovers of skiing and the ones that come for world cup race for women - Golden fox.
Camp has one heated sanitary unit with five showers, toilets, wash-hand basins with hair dryers. Outer part of the sanitary unit is arranged for washing the dishes, two showers, toilets and camper supply station.

In Radvaje, close by the camp, you can find bakery, bar, shop, post office, pharmacy, coffee place, etc.
Camp is only 300m away from gondola that takes you to the top of mountains Pohorje and is therefore very popular among nature lovers, hikers and adrenaline lovers. Close by are golf court and track for mountain biking as well as smaller lake for fishing.
Not far is also Spa centre Habakuk for wellness fans.
Features and equipment
Type of the campsite
Pitch features
Non-parcelled camping plots

Pitches with electricity and water

Pitches with electricity, water and waste water connections
Location
Equipment
Chemical toilet discharge

Heated sanitary facilities

Children sanitary facilities
Offer
Sport
Swimming pool/wellness
Swimming pool with heated water
Dogs
Rental option
Camping pricelist (in EUR) for year 2023
| Price for | 1.1. - 31.12. |
| --- | --- |
| Person | 14,10 |
| Children 7 - 13 yrs. | 9,30 |
| Children 14 - 18 yrs. | ​​12,30 |
| Electricity | 5 |
| Dog | 5 |
| Camper supply | ​​3 |
| Tourist tax | ​​0 |
PDF - Pricelist for year 2023 (17KB)
The price of a person already includes the tourist tax.
Possibility of additional payment of 5 € for extended stay 13 - 18h.

For a stay longer than 5 days you will get a 10% discount.
Payment in cash only!

Contact
GPS: 46.535489,15.605081
Address: Pohorska ulica 35 c, 2000 Maribor -Radvanje, Slovenija
Reception:

+386 40 665 732
Glamping
Glamping description
Rental of wooden glamping houses in camping Kekec - camp offers wooden houses that can host 2-3 people. Each house has beds and its own terrace with table and chairs.
Information about glamping
Glamping type
Number of persons in glamping
Glamping hut for 2 - 3 persons

Glamping huts for 4 - 6 persons

Glamping huts for 6+ persons

Glamping tents for 2 - 3 persons

Glamping tents for 4 - 6 persons

Glamping tents for 6+ persons
Location and features of glamping
Bathroom in accommodation
Pricelist for glamping (in EUR) for year 2023
Rating and reviews
Reviews:
Published on day from vlady

Category

Camper

Company

In couple

Super kamp,smo skoraj vsako leto okrog 1 nov.za par dni v tem kampu.Sanitarije ciste,ogrevane z vsem potrebnim,lepa okolica,prijazno osebje,brez pripomb kar se kampa tice.Imam pripombo glede turisticne takse,3,15€ na osebo na dan,se mi zdi pa res prevec.Hodim dosti okrog,tako visoke cene se nisem zasledil.Ce mariborska obcina nima zadosti prihodkov,se mi zdi neposteno na taksen nacin "lupiti" turiste.Cena kampiranja z ACSI kartico 21€ na noc,plus tt za dve osebi 6,30€​​

Published on day from anonymous

Category

Camper

Company

Family with teenager

Published on day from vlady

Category

Camper

Company

In couple

Super kamp,super lastnik.Blizina Pohorja in vse potrebne infrastrukture.Ogrevane sanitarije,topla voda,toaletni papir,papirnate salvijete,vse kot mora bit.Mi smo tukaj ze bili,vedno super zadovoljni in se bomo vedno se naprej radi vracali.Priporocam​​

Published on day from anonymous

Category

Tent

Company

In couple

Odličen majhen kamp. Lastniki prijazni, zelo blizu bike park Pohorje. ​​

Published on day from anonymous

Category

Tent

Company

In couple

Adrenalinski kolesarski izlet in prijetno kampiranje. V osrednjem objektu čiste sanitarije, toaletni papir vedno na voljo, dovolj pomivalnih korit, pralni stroj, stojala za sušenje perila, hladilnik. Nekaj miz in klopi na pokriti terasi. Sva si preko e-hrana naročila dostavo kosila in tam pojedla. Lastnik zelo simpatičen in dostopen.
- Wi-fi ne lovi daleč, malo senčnih delov.​​

Published on day from anonymous

Category

Camper

Company

In couple

Ponudba kampa fantastična, tudi sama lokacija odlična. Na parcelah so mize za skup o uporabo, ki so nama zares prišle prav, lepe sanitarije in skupni prostor.​​