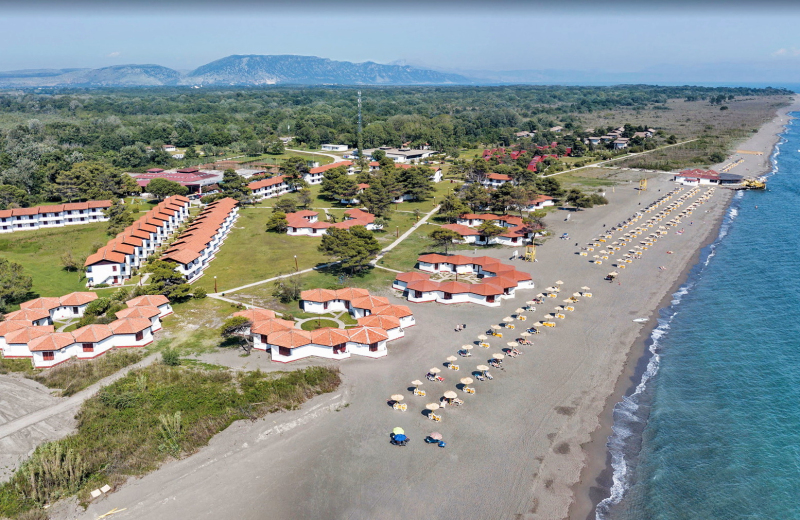 Information
Basic information
Naturist Camping Ada Bojana is a well-known tourist centre located 18 km south-east of Ulcinj, on the very border with Albania. The FKK Camp Ada Bojana has been operating within this centre since 1973.

The campsite is located on the island of Ada, which is just under 3 km long and 2 km wide, surrounded on two sides by the Bojana River and on the third by a sandy beach. As the campsite is part of the Ulcinjska Riviera tourist complex, guests can enjoy restaurants, bars, a disco and sports facilities, and bungalows can be rented.

In recent years, new bungalows have been built in the tourist centre, lighting has been installed throughout the resort and the campsite, and two nudist bars have been set up on the beach itself.

The area is well known among surfers and kitesurfers due to the favourable climate, and there is a ski lift nearby.
Features and equipment
Type of the campsite
Pitch features
Non-parcelled camping plots

Pitches with electricity and water

Pitches with electricity, water and waste water connections
Location
Equipment
Chemical toilet discharge

Children sanitary facilities

Heated sanitary facilities
Offer
Sport
Swimming pool/wellness
Swimming pool with heated water
Dogs
Rental option
Camping pricelist (in EUR) for year 2023
Price for
6.7. - 20.8.
10.5. - 5.7.
21.8. - 15.10.
Person
4,60
3,70
Children 4 - 12 yrs.
2,30
1,80
Tent
​​4,60
​​3,70
Car
​​2,90​​
2,30
Motorcycle
2,30
1,80
Camper
6,30
4,50
Caravan
4,60
3,70
Electricity
​​2,30
​​2,30
Refrigerator
​​2,30
​​2,30
Internet access - WIFI
​​1*
​​1*
Tourist tax
​​1,20
​​1,20
PDF - Pricelist for year 2023 (19KB)
*12 hours of internet use costs €1.

Contact
GPS: 41.864595,19.344424
Address: Ulcinjska riviera, 85360 Ulcinj, Črna gora
Reception:

+382 304 550 59

Reservation:

+382 304 113 51
Rating and reviews
Reviews:
Published on day from anonymous

Category

Tent

Company

Family with small children

Najboljši dopust do sedaj. ​​

Published on day from MikM

Category

Tent

Company

In couple

Tudi letos naju je pot zanesla v ta kamp. Opažava, da se stanje v kampu počasi nekoliko izboljšuje. Od lani je novost v tem, da so v Adi nasadili par sto dreves, ki pa jih kljub veliki suši nikoli ne zalijejo. Polovica se jih bo po vsej verjetnosti do drugega leta posušilo. Pa vendar - izredno velik napredek, ki se ga bo občutilo šele čez kakih deset let ... Vedno bolj je moteča tudi sosednja "oblečena plaža" na katero v procesijah hodijo skozi FKK, ponoči pa se s te iste plaže sliši muzika ... Plaža pa je še vedno fantastična - vredna sorazmerno dolgega potovanja iz oddaljene Slovenije. ​​

Published on day from anonymous

Category

Other

Company

In couple


U odnosu na cenu, kamp je sasvim OK.​​