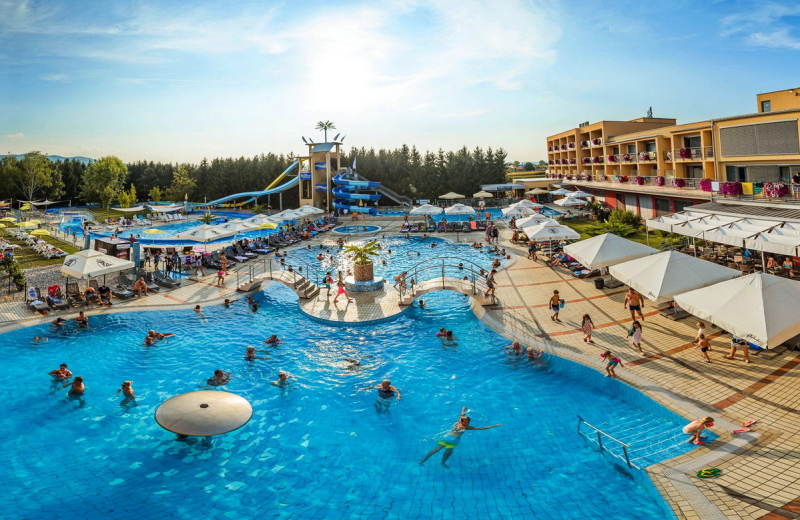 Best camp Adria 2023

3. place
Information
Basic information
Terme Paradiso - Dobova completed the hotel offer with a newly arranged parking lot for motorhomes and the glamping village Honey Paradise, where they offer the possibility of renting wooden glamping houses for 4 people.

These are smaller spas where thermal pools, renovated Oaza Paradiso saunas and a wellness center with massages and beauty treatments are available to guests.
Camper stop Terme Paradiso offers 16 parking spaces for motorhomes with all the necessary supplies.
Terme Paradiso allows you to swim in an outdoor and an indoor pool with thermal water at a temperature of around 32 °C, which are connected throughout the year. The children's pool and the pool with a slide are open from May to September, and the lazy river and slides (multitrack, kamikaze) are open during the summer holidays.

The indoor pool area of ​​Panorama Paradiso includes a swimming pool, jacuzzis, a children's pool with small slides, a kitchenette, a changing room and deckchairs.

Oaza Paradiso allows you to relax in 8 different luxury saunas, and for fans of naturist bathing, there is also a renovated FKK pool and a nudist beach. Saunas available at Terme Paradiso: outdoor forest sauna, chromo Finnish sauna, chocolate sauna, hammam sauna, salt herbal sauna, bio panoramic sauna, steam sauna and infrared sauna.

For couples, we recommend pampering for two, which includes private use of the jacuzzi and steam sauna.

The location of Terme Paradiso allows for many interesting excursions - for children, the Na Jasi animal park is nearby, you can visit the Kostanjeviška cave, visit an herb farm or wine tasting, go on a bike tour around the area or jump into the nearby forest.
Features and equipment
Type of the campsite
Pitch features
Non-parcelled camping plots

Pitches with electricity and water

Pitches with electricity, water and waste water connections
Location
Equipment
Chemical toilet discharge

Children sanitary facilities

Heated sanitary facilities
Offer
Sport
Swimming pool/wellness
Swimming pool with heated water
Dogs
Rental option
Contact
GPS: 45.897726,15.654244
Address: Selska cesta 15b, 8257 Dobova, Slovenija
Reception:

+386 7 45 22 988
Glamping
Glamping description
Terme Paradiso - Honey Paradise Glamping Resort is a settlement of three wooden glamping houses located on the edge of the thermal baths.
Glamping Houses look like beehives from the outside, but inside they offer a lot of comfort for families and couples.
Honey Paradise Glamping is a unique resort where everything revolves around bees. The houses allow you to stay all year round, as they are heated. Each house is named after the tree on which the bees like to collect honey - Chestnut, Linden and Acacia.
Modern beehives are located in colorful nature, not far from thermal springs and give a completely new dimension to a holiday in nature. They delight both children and their parents with their comfort. The location is also good for couples, because there is nothing better than a romantic evening under the stars with some good local sparkling wine and a cake from the local pastry shop.

Glamping houses - beehives are for 4 people and are equipped with a kitchen, a bedroom, an additional bedroom with a bunk bed, a bathroom and a terrace. They offer an excellent option for a vacation for two or a family vacation. Guests can enjoy breakfast with local delicacies, which are delivered right to the cottage. Guests in glamping houses have unlimited swimming, use of saunas and fitness facilities.
Information about glamping
Glamping type
Number of persons in glamping
Glamping huts for 4 - 6 persons

Glamping hut for 2 - 3 persons

Glamping huts for 6+ persons

Glamping tents for 2 - 3 persons

Glamping tents for 4 - 6 persons

Glamping tents for 6+ persons
Location and features of glamping
Bathroom in accommodation
Camper stops
Camper stop description
Terme Paradiso camper stop - the newly opened camper stop is located right next to the thermal baths and is intended for guests who come to swim and enjoy the wellness offer.

There are 16 parking spaces for motorhomes, which are equipped with electricity and water, and the discharge of waste water and faeces is also regulated (emptying cassettes and self-cleaning grid).
The first night at the camper stop is subject to a charge, the second night or all other nights are free of charge. Electricity and water consumption are at extra cost.

Information about camper stop
Camper stop type
Camper stop with supply station
Features of the camper stop
Discharge of faeces / chemical wc

Camper stop with sanitary facilities
Pricelist for camper stop (in EUR) for year 2023
Rating and reviews
Best camp Adria
2023: 3. place in category Slovenia - Camper stops