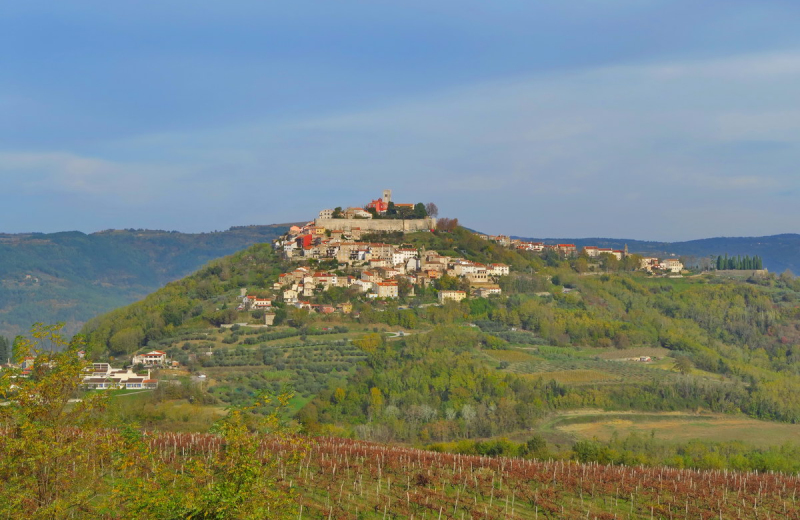 Information
Basic information
Campsite Motovun is located just at the foothills of town Motovun. It is a small campsite, which is very nicely decorated, and guests also use the wellness center within the hotel. Due to the excellent arrangement, the camp Motovun is included in the group OK of Mini Croatian Camps.
The Motovun Camp includes 12 parking pitches for motorhomes and a smaller place for tents.
Camping pitches are equipped with electricity, water and satellite TV, as well as sanitary building and all needed facilities for camper's sanitation.
Campsite Motovun is owned by company that runs hotel Kastel in Motovun, which enables guests of campsite to enjoy all the services of the hotel – free usage of swimming pool, discounts for wellness program and special offers in their restaurant. It takes 10 min walk to reach town of Motovun on foot, there is as well van organized. Guests can rent a bike, which is great for cycling along the Parentana trail.
Motovun is romantic smaller Istrian town, located on a hill 280 above the sea level and above Mirna river. There is church of St Stjepan on the main square that used to be used as guard tower. It is encircled with stoned walls. Each summer Motovun hosts well known film festival, however, this region is well known as well by its good olive oil, wine and truffles that are searched for every autumn and spring.

Features and equipment
Type of the campsite
Pitch features
Non-parcelled camping plots

Pitches with electricity and water

Pitches with electricity, water and waste water connections
Location
Equipment
Chemical toilet discharge

Children sanitary facilities

Heated sanitary facilities
Offer
Sport
Swimming pool/wellness
Swimming pool with heated water
Dogs
Rental option
Camping pricelist (in EUR) for year 2023
Price for
1.7. - 31.8.
1.6. - 30.6.
1.9. - 15.9.
1.4. - 31.5.
15.9. - 15.10.
1.1. - 31.3.
16.10. - 31.12.
Pitch (2 persons, camper, electricity)
​​27
​​24
​​19
​​15
Minimum stay
​​2 ( +4€ )
​​2 ( +3€ )
​​2 ( +5€ )
​​2 ( +4€ )
Pitch (2 persons, tent, car)
​​17
​​17
​​17
​​17
Minimum stay
​​2 (+8€)
​​-
​​-
​​-
Addit. person
​​2
​​2
​​2
​​2
Children under 12
​​gratis
​​gratis
​​gratis
​​gratis
Addit. electricity
​​2
​​2
​​2
​​2
Water
​​2
​​2
​​2
​​2
Shower
​​1
​​1
​​1
​​1
Dog
​​1,50
​​1,50
​​1,50
​​1,50
Swimming pool
​​gratis
​​gratis
​​gratis
​​gratis
Tourist tax
​​1,10
​​1,10
​​1,10
​​1,10
PDF - Pricelist for year 2023 (21KB)
The rates are valid for at least 2 nights - in case of only 1 night, extra charge is required.

Guests of the campsite Motovun have the possibility of free use of the indoor pool of the Hotel Kastel and a 10% discount on wellness programs and in their restaurant.

The cost of a max 4 hour motorhome parking for a tour of Motovun in a tidy parking lot within the campsite costs 7 euros.

Contact
GPS: 45.334593,13.825228
Address: Rižanske skupštine 1a, 52424 Motovun, Hrvaška
Reception:

+385 52 681 607