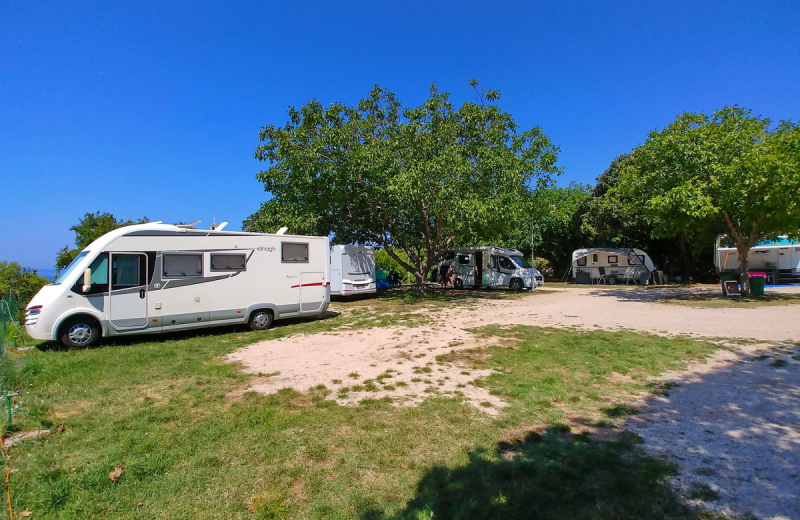 Information
Basic information
Camp Kate is located in town Mlini, which is 7km from Dubrovnik towards Cavtat. Camp has grown in the shade of pine trees and cypresses, from the beach and pebbled beach is 400m away. Camp is very appropriate also for transitional guests as it is located along the main road Dubrovnik – Budva.

Pitches are arranged in two terraces, water is heated by sun panels. Pitches have electricity connection, part of them as well sewage and access to water. Smaller part of the campsite is not divided into pitches and perfect for campers with tents.

Campsite has two sanitary facilities and well arranged camper supply station. WiFi is free of charge and accessible across the camping.

Restaurant and shop are only 200m away.

Stairs and footpaths can be reached to the pebbled beach, from where taxi boats are also driving to Dubrovnik. In the vicinity of the camp there is also a bus station from which all day long bus stops in Dubrovnik.
Features and equipment
Type of the campsite
Pitch features
Non-parcelled camping plots

Pitches with electricity and water

Pitches with electricity, water and waste water connections
Location
Equipment
Chemical toilet discharge

Children sanitary facilities

Heated sanitary facilities
Offer
Sport
Swimming pool/wellness
Swimming pool with heated water
Dogs
Rental option
Camping pricelist (in EUR) for year 2022
Price for
20.7. - 25.8.
1.6. - 20.7.
25.8. - 15.9.
4.4. - 1.6.
15.9. - 28.10
Person
​​4,50
​​4,10
​​3,50
Children 6 - 12 yrs.
​​2,60
​​2,10
​​1,40
Children 12 - 18 yrs.
​​4,30
​​3,30
​​2,60
Pitch
​​13,50
​​13,50
​​10,20
Non-parceled part of the camping:
​​-
​​-
​​-
Tent - small
​​3,20
​​2,60
​​2,40
Tent - big
​​6,30
​​5,30
​​4,70
Car
​​3,20
​​2,60
​​2,40
Motorcycle
​​2,40
​​1,80
​​1,60
Bicycle
​​0,70
​​0,70
​​0,70
Caravan
​​4 - 5,30*
​​3,40 - 4,50
​​2,90 - 4
Camper
​​6 - 7,40*
​​5,50 - 6
​​4,80 - 5,30
Electricity
​​2,10
​​2,10
​​2,10
Washing machine
​​2,70
​​2,70
​​2,70
Tourist tax
​​1
​​1
​​0,80 - 1
Contact
GPS: 42.624724,18.208084
Address: Tupina 1, 20207 Mlini - Dubrovnik, Hrvaška
Reception:

+385 20 487 006
Rating and reviews
Reviews:
Published on day from tonetrob

Category

Camper

Company

Family with teenager

Zelo prijeten manjši kamp par kilometrov južneje od Dubrovnika. Imajo vso oskrbo za avtodome. Sanitarije so vedno čiste res pa da malo zastarele. Lahko bi bilo edino malo več Wc-jev. Edino kar je malo slabše je pot do trgovine, ki je okoli 500m stran od kampa in greš do nje po magistrali. Ampak tudi to gre samo malo moraš biti previden. Dostop do plaže pa je po stopnicah ( 169 stopnic ) ampak se jih hitro navadiš. Plaža pa prodnata v vodi pa mivka. V mestecu je tudi par restavracij. Do Dubrovnika pa vozi avtobus in tudi ladja ( 100 kun za ladjo povratna karta na osebo). Mi smo bili z dvema najstikoma in petletnikom. Plan je bil 2 noči ostali smo jih pa 5. Sigurno se še vrnemo.​​

Published on day from VR46Transporter

Category

Camper

Company

In couple

V kampu 2 noči. Največja prednost kampa je bližina Dubrovnika, v katerega vas avtobus odpelje za 18kun. Sanitarije zelo čiste in topli tuši. Wifi tako tako. Dostop do plaže po stopnicah, ampak ni prehudo. Plaže v bližini lepe in urejene, priporočava ogled mlinov. Zelo priročna voda na parceli.​​

Published on day from 5er

Category

Camper

Company

Family with teenager

Prijeten kamp z urejenimi parcelami. Dostop do plaže je po stopnicah cca. 10 minut hoje. Osebje je prijazno in ustrežljivo.Za wifi je potrebna dnevna koda, vendar se jo dobi na recepción in je brezplačna. Prespali smo dve noči in se z mestnim avtobusom odpeljali v Dubrovnik. Postaja je zelo blizu. Priporočamo.​​

Published on day from primorci15

Category

Other

Company

Family with small children

Prijeten in miren kamp, na dveh nivojih (vhodni/zgornji blizu magistralke, spodnji pa v zelenju/miru). Ker so majhni in precej zasedeni (rez. pa ne sprejemajo) moraš imeti precej sreče, da dobiš mesto (tudi če prideš prej); po našem bolj prehodnega značaja. Super izhodišče za izlet v Dubrovnik (ladjica vsako uro), ogled ostalih zanimivosti v okolici, predvsem pa pravljičnih Mlinov (prenovljeni obalni del). Do plaže se sicer pride po stopnicah (cca. 10 min hoje - otroci) a je pot v senci in prijetna.​​

Published on day from hajnaza

Category

Camper

Company

Family with teenager

Avtokamp Kate je eden od najboljših kampov v mestu Mlini.Kamp je lepo urejen ,čistoča sanitarjev je odlična, oskrba z toplo vodo je vedno dovolj.Vsa pohvala kampu Kate,bili smo zelo zadovoljni, zato ga priporočam vsem. ​​