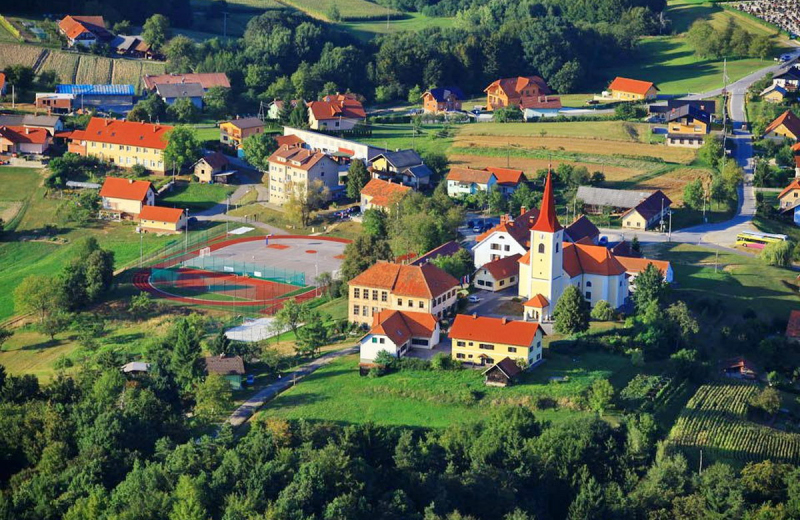 Information
Camper stop description
Camper stop is set up in Sveti Tomaz, which is 12km away from Ormoz. It is arranged at the parking in the center of the town, where there are two parking places for campers with the possibility of connection to electricity and water. Waste water and sewage discharges are also arranged.

Nearby a sports field for basketball, volleyball, football and tennis.

Sveti Tomaz developed on the site of a former Neolithic settlement. You can see the parish church of St. Thomas, which was built between 1715 and 1727. Also interesting is the Brumen Museum, where old objects are exhibited in the old house - the chimps, and the wine cellar is on display. In the immediate vicinity of the Sava Pond, which is a popular location for sports fishermen, is Staink's Mill, which was first mentioned in written sources in 1832. Stanko Cajnkar is located in Savci, and writer, poet, playwright and priest Fran Ksaver Mesko was born in the village of Kljucarovci.

During the winter you can in favourable snow conditions ski in the vineyards, as the local ski slope is the Deep Gorge (Globok klanec in Slovenian) just 3 km from the camper stop. The length of the ski lift and ski slopes is 520m, and they also enable night skiing.

Information about camper stop
Camper stop type
Camper stop with supply station
Features of the camper stop
Discharge of faeces / chemical wc

Camper stop with sanitary facilities
Features and equipment on location
Location
Equipment
Chemical toilet discharge

Children sanitary facilities

Heated sanitary facilities
Offer
Sport
Swimming pool/wellness
Swimming pool with heated water
Dogs
Rental option
Contact
GPS: 46.48269,16.08063
Address: Sveti Tomaž 44, 2258 Sveti Tomaž, Slovenija
Reception: