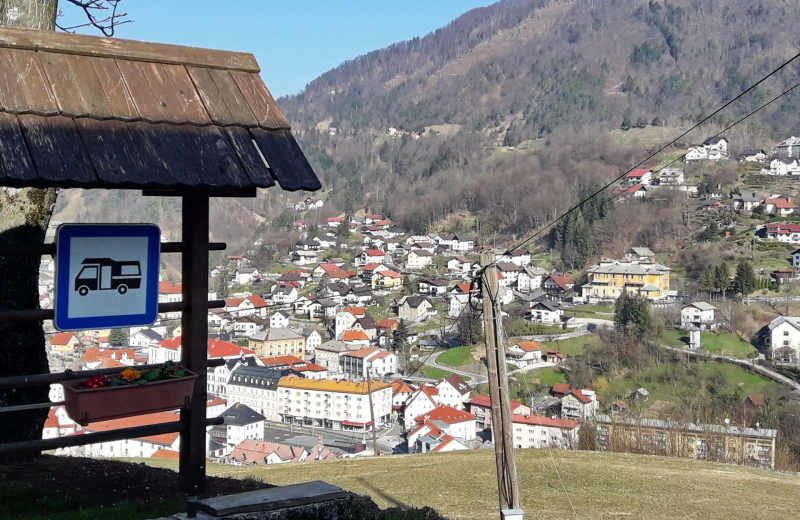 Official category: 0 from 5 stars
Camper stop Pr Smuku - Idrija
Address: Carl Jakoba ulica 9, 5280, Idrija, Slovenija

Season: -
Compared price: 2 people + pitch with electricity - up to 25 €
Discounts:
By the city
On the farm
Free wifi
Information
Camper stop description
Camper stop Pr'Smuku - Idrija is arranged a few hundred meters above town Idrija, from where there is a beautiful view of the entire city. It is a private parking lot arranged by a camper owner, which is also a tourist guide to Idrija and the mercury mine.
Motorhome parking Pr'Smuku - Idrija provide supply (electricity, water, discharge of wastewater and chemical toilet discharge), there is also free wifi. camper stop has place for 7 - 8 motorhomes up to max. 8 meters long.

The location is great for visiting Idrija, a walk through the old part of town - a guided tour with a description of the sights and history, and a visit to the mercury mine is almost mandatory. for visitors, you can see Antonijev rov, where you will learn how miners used to work in difficult conditions. From 1500 to 1988, when the mine was closed, more than 700 kilometers of tunnels were dug under the Idrija, which reached up to 400 meters deep underground. For PZA visitors, the owner offers a voucher for a 10% discount to view the mine.

In the vicinity of Idrija there are many opportunities for cycling and hiking. Divje jezero is a highly recommended trip, which is only 2 kilometers away from Idrija. It is classified as a natural monument and museum in nature, and its specialty is a depth of up to 160 meters.

Information about camper stop
Camper stop type
Camper stop with supply station
Features of the camper stop
Discharge of faeces / chemical wc

Camper stop with sanitary facilities
Features and equipment on location
Location
Equipment
Chemical toilet discharge

Children sanitary facilities

Heated sanitary facilities
Offer
Sport
Swimming pool/wellness
Swimming pool with heated water
Dogs
Rental option
Pricelist for camper stop (in EUR) for year 2022
Contact
GPS: 45.99870,14.02587
Address: Carl Jakoba ulica 9, 5280, Idrija, Slovenija
Reception:

+386 41 725 262
Rating and reviews
Reviews:
Published on day from anonymous

Category

Camper

Company

With friends

Super lokacija z odličnim razgledom nad Idrijo. Ustrežljiv in prijazen lastnik. Možnost ogleda mesta in Antonijeega rova z zelo dobrim vodičem (Lastnik PZAja).

Toplo priporočam!!!​​

Published on day from anonymous

Category

Camper

Company

In couple

Super lokacija, prekrasen razgled na Idrijo, lastnik pa predan gostu z vsem srcem. Samo pohvale, odlično preživet vikend in gotovo se bova še vrnila.​​

Published on day from maja.telebar

Category

Camper

Company

Family with small children

Privat parkirni prostor za avtodome s priklopom na elektriko in uporabo vode na idilični lokaciji na hribu s pogledom na celotno mesto Idrija. Lastnik je zelo prijazen in ustrežljiv. Celotno Idrijo in znamenitosti nam je predstavil kar iz parcele, saj se večina znamenitosti vidi iz mesta kjer je parkiran avtodom. Skratka zelo pozitivna izkušnja. ​​