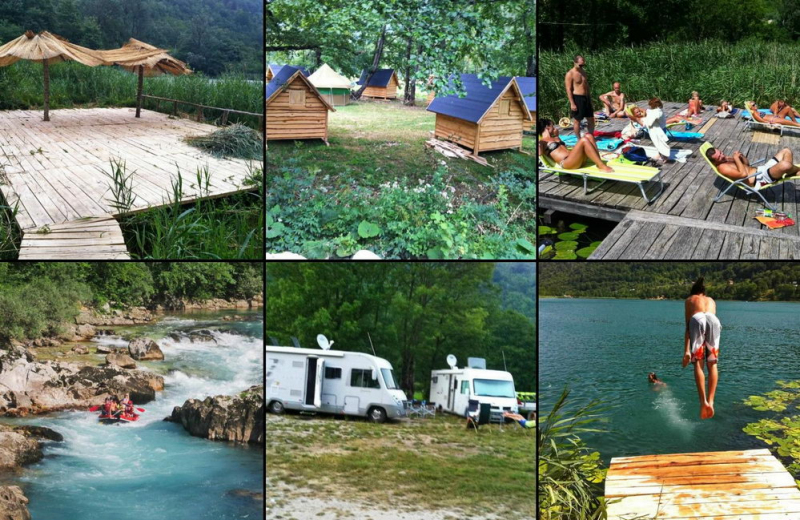 Information
Basic information
Camping Boracko jezero ('jezero' means lake in local language) is located 20km south from town Konjic. Road towards campsite and to the lake is arranged and asphalted. In camping Boracko jezero guest can camp on arranged camping pitches and rent an interesting wooden houses for 2, 8 and even 12 people.

Campsite Boracko selo is arranged by the lake and is 4ha large. Most of the pitches are arranged on grass and suitable for campers with tents, caravans and campers. All have electricity connection.

Wooden houses of various sizes can be rented at Boracko jezero. There are 15 wooden chalets for 2 persons, 2 chalets for 8 people and 5 larger wooden houses for 12 people.

All wooden chalets have beds with linens, electricity connections and towels included in the price. Dogs in wooden houses are not allowed.

Sanitary facilities are tidy and offer everything needed for comfortable holidays.

Camp has its own beach so you can freely bath in the lake and catch some sun. We recommend you also to take a walk along the lake that is arranged with wooden bridges and footbridges.

Here you will find bar and restaurant that offer traditional Bosnian dishes.

Sport lovers can play volleyball, football, surfing or rent a boat. Camp management organizes daily trips to neighboring sights as well as rafting on river Neretva.

Features and equipment
Type of the campsite
Pitch features
Non-parcelled camping plots

Pitches with electricity and water

Pitches with electricity, water and waste water connections
Location
Equipment
Chemical toilet discharge

Children sanitary facilities

Heated sanitary facilities
Offer
Sport
Swimming pool/wellness
Swimming pool with heated water
Dogs
Rental option
Camping pricelist (in EUR) for year 2023
Price for
1.6. - 31.8.
1.5. - 31.5.
1.9. - 30.9.
Person
​​6
​​5
Tent - small
​​5,50
​​4,50
Tent - big
​​7
​​6
Car
​​6,50
​​5,50
Caravan
5,50
4,50
Camper
​​7
​​6
Electricity
​​4
​​3
Tourist tax
​​1
​​1
Contact
GPS: 43.556840,18.028760
Address: Ul. Prkanj 1, 88400 Konjic, BiH
Reception:

+387 33 200 249

Reservation:

+387 66 966 426
Rating and reviews
Reviews:
Published on day from zigurat

Category

Camper

Company

In couple

Za stop v območje jezera je potrebno posebaj plačati. Wifi v kampu in restavraciji dela zelo slabo. Čevapčiči najslabši kar som jih jedli v Bosni. Kamp ima zanimivo lego, lahko se parkiraš čisto ob obali. Cena primerljiva ostalim kampom v Bosni. Bila je velika gneča na obali, pa tudi miru ni bilo dolgo v noč. Mularija je hodila povsod, prepevala, odmevali so sterling,...
Kampa ne priporočam.​​

Published on day from anonymous

Category

Other

Company

With friends

Veoma zadovoljan sa uslugom,kao i sa vlastnikom kampa.Smjestaj je za moj pojam super...vise na prirodan nacin,inace imaju i vece bungalove,za zahtjevnije goste.Sa vlastnikom i njegovim prijateljima jeli pili i pjevali do kasno u noc..sve pohvale i jos jednom hvala Goran ​​

Published on day from anonymous

Category

Other

Company

With friends

Strežno osebje je pod kritiko.
Vsa pohvala gre le kuharju!!!​​

Published on day from anonymous

Category

Other

Company

Family with small children

Čudovit kamp v osrčju narave. Zelo priporočam tistim, ki si želijo pristnega stika z domačini in odklop od modernega tempa življenja. Osebje je svetovno. Vedno se radi vračamo za 2-3 dni. Pogrešamo le toplo vodo za tuširanje. Upam, da bodo tudi to kmalu uredili.​​

Published on day from anonymous

Category

Other

Company

In couple

Kamp je odlicen...cene polovicne kot pri nas!osebje zelo prijazno...jezero odlicno za kopanje...da o hrani nepisem:)​​

Published on day from anonymous

Category

Other

Company

In couple

Prijazen lastnik in pravo balkansko gostoljubje. Če se želite počutiti kot zaželjen gost, priporočam obisk kampa. Lastnik se zelo trudi in ureja kamp, ki zna biti v prihodnjih letih res odličen. ​​

Published on day from mountainflower

Category

Other

Company

Family with small children

Ugodan kamp, mirna lokacija. Nešto teže dostupan zbog 20 km uske brdske ceste sa serpentinama (asfaltirana). Stoga nije idealan kao baza za okolne izlete. Nema tople vode, što uz visinu cijene nikako nije opravdano. Boravišnu pristojbu naplate iako ne prijavljuju posjetitelje. Osoblje veoma ljubazno i uslužno. Intimna i ugodna atmosfera. Odvod se zna povremeno zaštopati. Nedovoljno priključaka za struju. Tijekom vikenda i posjeta većih skupina zna biti bučno do kasno u noć. Idealno vrijeme posjeta je tijekom radnih dana. Odličan spoj ekologije i prirode. Smatram da je cijena previsoka za uvijete koji se nude. Po danu: 2,5 eur auto, 3 eur šator, 4eur po osobi,3 eur struja. Djeca do 12 god gratis. ​​