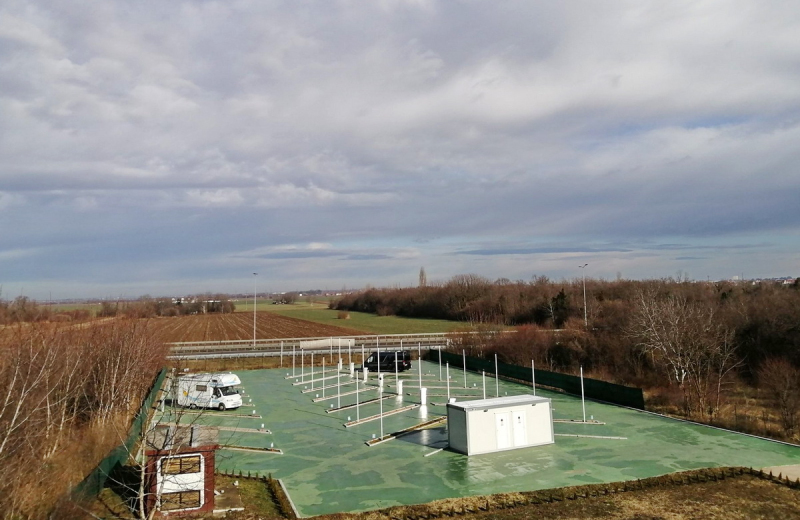 Information
Camper stop description
Camper stop West Camp Bg is located on the western side of town Belgrade (Beograd), not far from the highway Zagreb - Belgrade exit (1.5 km from the exit itself). Camper stop is therefore around 14km from town center and offers great resting place for everyone traveling towards and to Greece.
West Camp Bg offers 24 arranged parking places with electricity and water connection, it is as well possible to empty grey waters and cassettes from the chemical toilet. There is as well smaller sanitary facility with showers and toilets, pitches have connection for Satellite television, while free wireless internet is available across the parking. There is also a children's pool.

Parking is fenced and protected.
Close by are some larger shops and bus station.
Information about camper stop
Camper stop type
Camper stop with supply station
Features of the camper stop
Camper stop with sanitary facilities

Discharge of faeces / chemical wc
Features and equipment on location
Location
Equipment
Chemical toilet discharge

Children sanitary facilities

Heated sanitary facilities
Offer
Sport
Swimming pool/wellness
Swimming pool with heated water
Dogs
Rental option
Pricelist for camper stop (in EUR) for year 2022
Price for
1.3. - 30.9.
1.1. - 28.2.
1.10. - 31.12.
Camper stop + electricity + water (24h)
​​18
​​15
Tourist tax
​​1,50
​​1,50
Contact
GPS: 44.831873,20.324464
Address: Svetog Save 8 - naselje Radiofar, 11271 Surčin - Srbija
Reception:

+381 62 117 47 71
Rating and reviews
Reviews:
Published on day from anonymous

Category

Camper

Company

In couple

Zanimljiv plac u blizini BG, z wifi, tušem i wc-om, elektrikom i izpustom za vc kaseto, veoma prijazni ustrezljivi , vlasnici, moguce malo hrupno zbog blizine autocesta ali svejedno prijetno za odmaranje i posetu Beograda.​​

Published on day from anonymous

Category

Camper

Company

Family with small children

Zelo industrijsko a za napolniti baterije/vodo SUPER
NI pa za dlje časa
Manjka šport, ....​​

Published on day from Sandi1973

Category

Camper

Company

Family with teenager


Pred kratkim smo se vrnili iz Beograda. Nastanjeni smo bili v West camp Beograd. Oskrba avtodoma je bila kompletna ( elektrika, voda, izpusti odpadne vode in fekalij). Res je da imajo samo en ženski in en moški wc in tuš ( zelo čisto in super ogrevano ), ampak tudi enkrat ni bilo potrebno čakati, da si prišel na vrsto. Trgovina za osnovne stvari je blizu (500m), prav tako avtobusna postaja za mestni avtobus. Res je, da je do centra mesta treba prestopat, ampak so povezave dobre (razen ob nedeljah), pa tudi cena vozovnice ugodna (prb. 7€ za tridnevno vozovnico za ves javni promet). "Gazdarica" Tamara je zelo prijazna in na voljo 24/7 za vso pomoč in informacije. Cena celotne oskrbe na PZA-ju zelo ugodna (15€/dan, pri bivanju več kot 3 dni pa 10€/dan ne glede na število oseb v AD-ju). Nam je bilo zelo všeč in zagotovo se se kdaj vrnemo.​​