add to favorite Look map of the campsite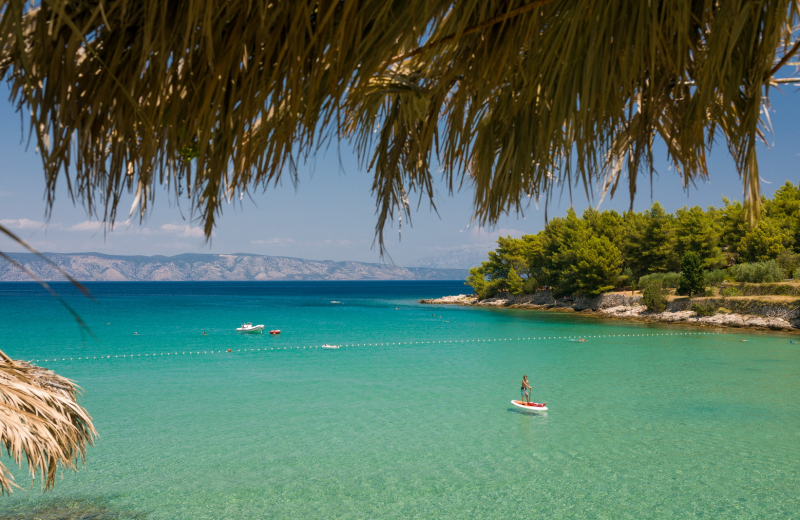 Information
Basic information
Camping Grebisce - Jelsa is located 1.5 km east of Jelsa on the island of Hvar. It is set on 3 hectares of land right next to the famous sandy beach Grebisce. The local road passing by the campsite is no longer busy, as a new connection between Jelsa and Sucuraj has been built.
Campsite Grebisce accepts the Avtokampi Camping Card, which will make camping holidays more affordable. The discount is listed at the price list of the campsite - order for free and get camping card by email.
Campsite Grebisce is divided into two parts. Right by the sea, there are approx. 40 well-groomed Comfort Mare pitches (50 - 100 m2), which are equipped with electricity and water and offer a beautiful view of the sea and the island of Brac. The pitches are spacious and thus very suitable for motorhomes and caravans, and there is also a caravan storage area nearby.
There are approx. 100 shady plots above the road (pine trees, olive trees, tangerine trees). All the plots have electricity, the Comfort plots also have a stone room for the kitchen and a sink for washing dishes. In the upper part of the campsite there are basic pitches mainly for tent campers.
There are also a few Deluxe pitches in this area, which are equipped with a kitchen, bathroom and a roofed terrace.

The sanitary facilities at Camping Grebisce are modern, with toilets, showers, laundry, ironing and dishwashing facilities. New facilities include children's toilets, a changing room and a dog shower. The sanitary facilities are of the highest standard and set a quality standard for other campsites in the region.
The beach Grebisce is divided into two sandy/sandy coves, where children enjoy the most, as the water in the coves is low. To the east of the campsite there are a couple of nudist beaches where puppies are allowed to swim.
The campsite has a children's playground by the sea, and you can rent bicycles. Free Wi-Fi is available throughout the campsite. There is a mini market at reception where you can buy breakfast essentials.
The campsite also offers massage treatments, and special beach aerobics for adults and children to help with back problems and posture.
There is a seafront café with a terrace serving drinks, ice cream, sweets, fried and grilled dishes. Larger shops and other restaurants can be found in nearby Jelsa, which can also be reached by bicycle.
Information about Ferry connections and its prices to the island Hvar

Features and equipment
Type of the campsite
Pitch features
Pitches with electricity and water

Non-parcelled camping plots

Pitches with electricity, water and waste water connections
Location
Equipment
Chemical toilet discharge

Children sanitary facilities

Heated sanitary facilities
Offer
Sport
Swimming pool/wellness
Swimming pool with heated water
Dogs
Rental option
Camping pricelist (in EUR) for year 2023
Avtokampi camping card
2023 - 3% discount on camping 15.4. - 30.6.
Price for
7.7. - 25.8.
19.6. - 6.7.
26.8. - 10.9.
15.4. - 18.6
11.9. - 22.10.
Person
​​9,10
​​8,10
​​7,10
Children 3 - 12 yrs.
​​5,50
​​4,25
​​4,25
Pitch Deluxe (electricity, kitchen, bathroom, covered terrace)
​​49,30 / 54,50*
​​46,60 / 48,70*
​​46,60 / 48,70*
Pitch by the sea (electricity, water)
​​28,30
​​22,50
​​20,80
Pitch (electricity, water)
​​26
​​21,50
​​19,40
Pitch with electricity
​​15
​​13,90
​​12,90
Pitch without electricity
​​12,90
​​12,40
​​10,70
Addit. car
​​5,15
​​4,70
​​4,15
Addit. tent
​​7,60
​​6,25
​​5,70
Dog
​​7,60
​​6,50
​​4,30
Refrigerator
​​10,10
​​10,10
​​10,10
Washing machine
​​8
​​8
​​8
Tourist tax
​​1,20
​​1,20
​​1,20
PDF - Pricelist for year 2023 (20KB)
*higher price applies to De lux Large pitches, which are slightly larger
Contact
GPS: 43.158567,16.711400
Address: Jelsa 978, 21465 Jelsa - otok Hvar, Hrvaška
Reception:

+385 21 761 191
Rating and reviews
Reviews:
Published on day from IrenaH

Category

Camper

Company

Family with small children

Manjši, lepo urejen kamp z 2 plažama (mivkasta in prodanta). Kamp je miren, blizu Jelse (s kolesom po lokalni cesti ob morju 10 min z majhnimi otroki). Mi smo uporabljali le mivkasto plažo, ker je bila otrokoma tako všeč, nama pa tudi , saj je bilo na plaži možno vedno najti kaj sence. Zagotovo se bomo še vrnili!​​

Published on day from anonymous

Category

Camper

Company

Family with small children

Odličen kamp, sanitarije čiste, osebje prijazno, plaža odlična za otroke. Še se vrnemo.​​

Published on day from anonymous

Category

Caravan

Company

Family with small children

Najboljši kamp na tem delu Hvara! ​​

Published on day from anonymous

Category

Tent

Company

Family with small children

Nam zelo prijeten in prijazen kamp. Kampiramo že več let zapored v tem kampu in še bomo. ​​

Published on day from anonymous

Category

Tent

Company

In couple

Zelo prijeten in lep kamp. Gospodarji in zaposleni so zelo prijazni, čistilka skrbi, da so sanitarije vedno čiste. Zaliv je krasen, posebej za majhne otroke in za tiste, ki si zgodaj zjutraj želijo plavanja v mirni vodi. Do plaže je sicer potrebno iti čez regionalno cesto, a nam to ni bilo moteče.​​

Published on day from anonymous

Category

Other

Company

Family with teenager

V kampu Grebišče smo bili letos že tretjič in smo bili tokrat izredno neprijetno presenečeni. Maja smo namreč rezervirali isto parcelo kot lani in tudi plačali 100€ zanjo, ko pa smo prišli v kamp, so nam povedali, da je ne moremo dobiti in da si lahko izberemo eno od ostalih parcel. Seveda nam to ni bilo ok, ker smo želeli biti v zgornjem, tišjem delu kampa, ponujali pa so nam 2 parceli v spodnjem delu ob cesti. Vse to bi še nekako sprejeli, če ne bi obe sestri imeli tako groznega odnosa - to vam lahko ponudimo, če ne pa pojdite drugam in vam damo denar nazaj. Starejša je na komentar, da se nam to ne zdi fer, naredila cel cirkus z metanjem denarja na pult in da takih gostov oni ne rabijo in da naj kar gremo (pa nisva ne dvigovala glasu niti bila žaljiva) ??? Zdi se mi izredno nesramno, sploh ker bi lahko to naredile povsem drugače in se ne bi čutili užaljeni. Ker v višku sezone in po dolgi vožnji nismo želeli iskati drugega kampa, smo pogoltnili ponos in ostali, vrnemo pa se zagotovo več ne. No, naslednji dan smo enako situacijo videli pri poljski družini, ki je šotor in vso opremo za en dan morala postaviti na drugi parceli in se nato seliti. Toliko o rezervacijah parcel.​​

Published on day from Darmarko

Category

Tent

Company

In couple

Bili smo u kampu 12 dana. Super je što je gornji dio kampa (južno od ceste) cijeli u hladu i svega par parcela ima slabiji hlad. Donji dio nema toliko hlada, ali nađe se. Teren je strm, pa je kamp terasast, zbog čega na neke parcele mogu samo šatori jer nema pristupa vozilima. Neke parcele su dosta velike, dok na druge stane samo mali šator. Parcele u centralnom dijelu, oko recepcije, imaju sudopere s toplom vodom i to je odlično. Cesta koja dijeli kamp nije jako prometna, ali je zavoj, pa je potreban oprez. Do centra Jelse ima 2km, a nekih 100m od kampa cesta postaje još manje prometna, praktički šetnica, koja prolazi pored susjednih kampova Holiday i Mina.
Mi smo bili u dijelu skroz desno (parcele 92-114). Taj dio su manje parcele na kojima hlad pravi drveće mandarina i tu nema pristupa autima, a auti se mogu parkirati malo dalje, pored sanitaraca. To je zapravo dobro za tišinu i nama je to super odgovaralo. Problem tog dijela kampa je što ima svega 3 ženska i 3 muška WC-a (i 3 pisoara), te 1 dječji. U donjem dijelu kampa (dio uz obalu, ispod ceste) je sanitarac u obliku kontejnera, te sam primijetio da je u naš dio dolazilo dosta ljudi iz tog dijela kampa. Što se tiče "našeg" sanitarca, topla voda je bila konstantan problem. Čim je nekoliko slavina otvoreno, padne pritisak i nema tople vode ili dođe nakratko, pa nestane. Tuševi još kako-tako, ali na umivaonicima i sudoperima je češće bilo samo hladne vode nego što bi se pojavila topla. Sanitarije se čiste par puta dnevno, ali zbog njihovog relativno malog broja (zbog čega imaju velik promet) trebalo bi puno češće. Tuš kabine su dosta velike, ali nemaju predprostor za stvari.
Plaže su dvije. Ona pored beach bara je pješćana, a druga, ispod parcela 18-22 šljunčana, ali pijesak je odmah u moru. More je plitko i super je za djecu, ali niti plivači ne moraju daleko (nije dugačak plićak kao na Rabu recimo). Nisu bile nešto natrpane, čak poprilično malo s obzirom na veličinu i popunjenost kampa, ali i činjenicu da i gosti izvana dolaze na njih. Gosti koji dolaze izvan kampa se parkiraju u kampu odmah ispod ceste. Na plaži se mogu unajmiti SUP-ovi, ima stol za stolni tenis, masaža, nekakva teretana na otvorenom... U sklopu beach bara ima i fast food. Na recepciji je mala trgovina (pivo 20 kn, hambi pecivo 10 kn), ali je preslabo opskrbljena praktički za bilo što.
Osoblje je ljubazno, ali ostavlja dojam pasivne agresije na bilo kakav upit. No ostavljam mogućnost da je ovo bio samo moj subjektivan dojam. Plaćanje se vrši dan ranije. Želim napomenuti da je ovo jedini kamp koji nam je odbio smrznuti "pingvine" za frižider i to baš jutro nakon grmljavine u kojoj nam je stradao frižider. Malo mi je čudno i da kamp ima 4*, jer po nekim parametrima jednostavno ne udovoljava.​​

Published on day from anonymous

Category

Tent

Company

Family with small children

Kamp je lijepo uredjen, na mirnom mjestu. Jako ljubazno osoblje, na usluzi. Čistoća na visokoj razini. Malo manje sadržaja za djecu, ali je zato pješćana plaža idealna na djecu, a i lijep je kafić onda uz plažu. Parcele za šatore su većinom u hladovini cijeli dan, ali treba naglasiti kod rezervacije za veće šatore, jer ima manjih parcela na koje veći šatori ne stanu, dok su veće parcele zaista komotne. Svakako se opet vraćamo.​​

Published on day from anonymous

Category

Tent

Company

Family with small children

Prekrasna pozicija, čarobna plaža i lijepe parcele.
Uredno i čisto.
Uživali smo i vraćamo se iduće godine :)​​