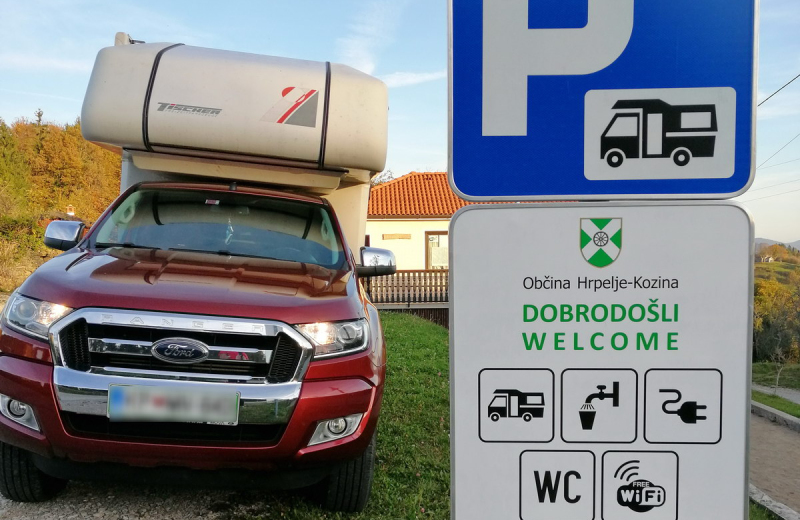 Information
Camper stop description
In village Orehek pri Materiji in part of Slovenia named Brkini you can find a camperstop. This is approximately 12 km from larger town Kozina and at the same time 20km from Ilirska Bistrica.
This is first camper stop in the region, located by the village main common house. It has four parking places with electricity and water connection, possibility to use toilet and connection to wireless internet.
Under the village is church of saint Stefan that was used as a partizan hospital in second world war. It is great starting point for walks in the woods.

Information about camper stop
Camper stop type
Camper stop with supply station
Features of the camper stop
Camper stop with sanitary facilities

Discharge of faeces / chemical wc
Features and equipment on location
Location
Equipment
Chemical toilet discharge

Children sanitary facilities

Heated sanitary facilities
Offer
Sport
Swimming pool/wellness
Swimming pool with heated water
Dogs
Rental option
Rating and reviews
Reviews:
Published on day from Romzi

Category

Caravan

Company

In couple

Stran od vrveža in gneče, blaženi mir.
V okolici je polno neprometnih cest, primernih za kolesarjenje, odlična lokacija tudi za pohodnike.
V bližini ni lokalov, trgovin (ali pekarne), so pa v bližnji in malo manj bližnji okolici kmetije, kjer je možno nabaviti kaj dobrega za pod zob.
PZA poleg elektrike in WiFi-ja (v epidemično normalnih časih) nudi tudi vodo in WC. Vse našteto je brezplačno, bodo pa veseli zahvale v obliki prostovoljnega prispevka.​​